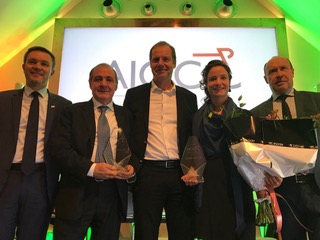 2017 AIOCC Trophy to Marianne Vos and 100th edition of Giro d'Italia
At the occasion of 2018 AIOCC General Assembly, Marianne Vos and the 100th edition of Giro d'Italia got the 2018 AIOCC trophy from Christian Prudhomme, AIOCC President.
2016 AIOCC TROPHY TO PETER SAGAN
By just reading the AIOCC Trophy list of winners we are sent back in time. Awarded since 1960, each year the Trophy awards an influential person in cycling.The editions feature Eugène Christophe (1965 winner), winner of the 1910 Milan San-Remo, Jacques Anquetil (1974 winner), five-times Tour de France winner as well as Félix Lévitan, Tour de France Director from 1962 to 1987. However, before the exploits of the road, cycling's history is written in the heat of the industrial workshops.
And in 2000, the Milanese, Ernesto Colnago received the AIOCC Trophy, the following year the company Mavic who became a legend with its yellow technical assistance was also rewarded. After Peter Sagan (2016), the Dutch rider Marianne Vos, women's cycling legend and the Giro d'Italia for its 100th edition were also awarded the AIOCC Trophy in 2017.
On the morning of the start of Milan-San Remo, Peter Sagan received the 2016 Trophy awarded by Eddy Buchette, AIOCC Treasurer and Mauro Vegni.
1960 : Equipe LEROUX-HELYETT-HUTCHINSON
Albert DE KIMPE (dirigeant)
PAVESI (dirigeant)
1961 : Equipe CARPANO
1962 : Pas attribué
1963 : Guillaume DRIESSENS (dirigeant)
1964 : Karel STEYAERT (champion)
1965 : Eugène CHRISTOPHE (champion)
1966 : Emile MERCIER (dirigeant)
Daniel GOUSSEAU (champion)
1967 : Rik VAN STEENBERGEN (champion)
René QUILLOT (journaliste)
1968 : Ferdinand BRACKE (champion)
1969 : Antonin MAGNE (champion et dirigeant)
1970 : Madame GOMETS (dirigeant)
J. B. SOLER (dirigeant)
1971 : Pierre STASSE (dirigeant)
Jean Pierre MONSERE (champion)
1972 : Brik SCHOTTE (champion et dirigeant)
1973 : Willem STEYAERT (champion)
1974 : Jacques ANQUETIL (champion)
1975 : Alfredo BINDA (champion)
Giovanni BORGHI (journaliste)
1976 : Nicolas FRANTZ (champion)
Giuseppe AMBROSINI (dirigeant)
1977 : Raymond POULIDOR (champion)
René GELTEMEYER (dirigeant)
1978 : Henri HEGESIPPE (dirigeant)
Lucien BUYSSE (dirigeant)
Marcel BIDOT (dirigeant)
1979 : Antoine HERBAUTS (dirigeant)
Aldo ZAMBRINI (dirigeant)
1980 : Eddy MERCKX (champion)
André LEDUCQ (champion)
1981 : Gentullio CAMPAGNOLO (champion)
1982 : Rik VAN LOOY (champion)
Louis PERFETTA  (dirigeant)
1983 : Bruno RASCHI (journaliste)
Luis PUIG (dirigeant)
Josy ESCH (dirigeant)
1984 : Francesco MOSER (champion)
1985 : Non attribué
1986 : Bernard  HINAULT (champion)
1987 : Félix LEVITAN (journaliste et dirigeant)
1988 : Non attribué
1989 : Jacques GODDET (journaliste et dirigeant)
1990 : Emile MASSON (journaliste et dirigeant)
1991 : Walter STAMPFLI (dirigeant)
1992 : Vincenzo TORRIANI (dirigeant)
1993 : Stephen ROCHE (champion)
1994 : Sean KELLY (champion)
Pierre CHANY (journaliste)
1995 : Gilbert DUCLOS LASSALLE (champion)
Alfredo BINDA (champion)
1996 : Pedro DELGADO (champion)
Equipe CARRERA
1997 : Albert BOUVET (champion et dirigeant)
Walter GODEFROOT (champion)
1998 : Felice GIMONDI (champion)
Ramon MENDIBURU (dirigeant)
1999 : Fernand CONTER (dirigeant)
Equipe KELME – COSTA BLANCA
2000 : Manfred BOHMER (dirigeant)
Ernesto COLNAGO (champion)
2001 : Adriano DE ZAN (titre posthume, journaliste)
Société MAVIC
2002 : Théo MATHY (journaliste)
Miguel INDURAIN (champion)
2003 : Chico PEREZ (journaliste)
Laurent JALABERT (champion)
2004 : Alberto GADDEA (commissaire)
Paul BOLLAND (dirigeant)
2005 : Fritz RAMSEIER (dirigeant)
Jacques AUGENDRE  (journaliste)
2006 : Jean Marie LEBLANC (dirigeant)
2007 : Franco BALLERINI (champion)
Robert JANSSENS (journaliste)
2008 : Gregorio MORENO (titre posthume, dirigeant)
2009 : LOTTO Groupe Sportif
CORDERO Victor (dirigeant)
2010 : Jean PITALLIER (dirigeant)
2011 : Jean-Paul BROUCHON (titre posthume, journaliste)
TOUR DE CATALOGNE (100 ans : 1911-2011)
2012 : Fiorenzo MAGNI (titre posthume, champion)
2013 : TOUR DE FRANCE (100ème édition)
2014 :  Jens VOIGT (champion)
2015 : Jean-François PESCHEUX (dirigeant)
2016 : Peter SAGAN (champion)
2017 : GIRO D'ITALIA (100ème édition)
Marianne VOS (championne)